FADV contributed to strengthening the existing health systems, through this initiative, during the second wave of COVID-19 spread and protecting the most vulnerable children and their families of the 6 municipalities of Lalitpur and Kavre District in Nepal. It also aimed at improving children and their family's access to better health, hygiene, and food and to support them in terms of mental health and Psycho-social support to ensure enhanced resilience against the impact of the Second wave of COVID-19.
Under this project 410, Home Care kits for those in home isolation were distributed through the local municipalities. The kit consisted of Pulse Oximeter, Thermometre, Face Shield, Gloves, Paracetamol tablets, Vitamin C Tablets and hygiene materials like Toothpaste and brush, Dettol s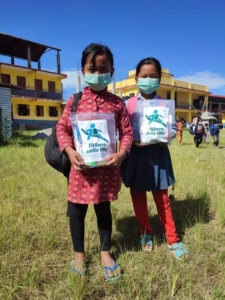 oap, face mask, towel, drinking water bottle, sanitizers, tissue paper, and sleepers. 10 Health isolation kits for health were also distributed as a part of a protective kit for the front-liners- doctors, and paramedics, treating the COVID-19 positive patients in the isolation camps. The kit consisted of PPE Sets as per CE Standard, Sanitizers, Surgical masks, N-95 masks, Gloves, and Vitamin C tablets. Hygiene kits were also distributed in two COVID-19 Help Desks in Kathmandu entry police check-points.
Supplementary nutritional food packets were distributed among 203 children containing Gram, Beans, two varieties of Lentils, and Beaten Rice. They were also provided with educational stationeries.
Identification of children and their families in need of psycho-social care and support was one of the important components of the project. Individual and group therapy sessions, focusing on life skills such as building resilience conducted with children with PTSD, anxiety, depression, etc. The sessions with children were based on therapeutic activities, such as art therapy, interpersonal therapy for adolescents, ecotherapy, recreational therapy, etc.
The project has been running since July 2021 and will continue till 31st December 2021.